20th Anniversary of 9/11
President Bush declared September 11 to be Patriot Day shortly after the attacks of 9/11/2001. To mark the 20th Anniversary of the terrorist attacks on the U.S., GCS spent the week learning about what the colors of the flag meant as well as the significance of the events from 9/11. What we asked our students to do during the week was to wear red shirts on Tuesday, white shirts on Wednesday, and blue shirts on Thursday. On September 10, 2021, GCS students and faculty capped off the week by creating a "Human American Flag" (see videos below). This was to show that we are all a part of America-"One nation, Under God". We were blessed to have two helicopters from Moody Air Force Base fly over! We appreciate them and all active duty military, veterans and first responders that make our way of life possible. That day twenty years ago unified the nation and that was the purpose of the events of the week. We wanted to teach our students to reflect on the sacrifices made and learn why we can all be proud to be American. May God continue to bless America!
Do you know what the colors on our flag stand for?
Red-hardiness and valor
White-purity and innocence
Blue-vigilance, perseverance and justice
Honoring Adam McSween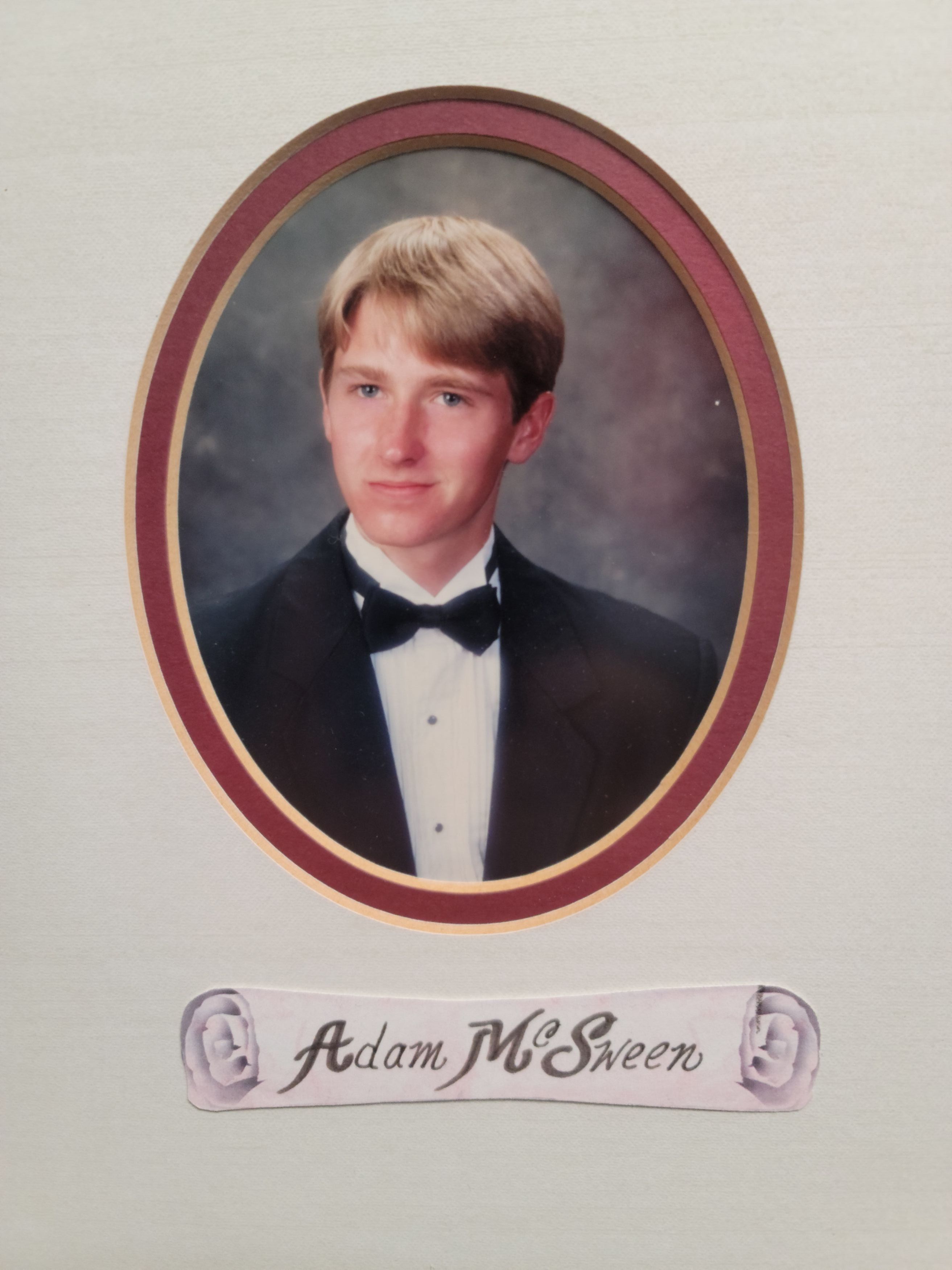 For those of us old enough, we all remember exactly where we were when we heard of the horrible events of 9-11-2001. This year, as we mark the 21st anniversary of remembering those who lost their lives on that day, let us teach the next generation of their sacrifice. Not only those who perished that day, but let us also remember those who have lost their lives since then in defense of our great nation. Georgia Christian School has had a former student in every war since World War I. The War on Terror is no exception.
One of those who gave his life for our freedom was Adam McSween ('98). Click here to read the VDT Article from 2007 for details of his sacrifice. Adam had a magnetic personality and was genuinely easy to like. He loved helping other people in high school, so it was easy to see him so willing to serve his country. His mother, Florence McSween, worked hard to keep his memory alive by having a painting of the picture to the right donated to the school. It hangs in the high school building along with a list of his awards/citations. She also went through a tremendous amount of effort to get an intersection named after Adam at North Valdosta Road and Inner Perimeter (near the Chick-fil-a). Click here to read the VDT Article from 2012. Ms. Florence felt one final act needed to be done to honor her son, Adam, for his sacrifice to our country. She worked very hard to get a scholarship in his honor established at Georgia Christian. Unfortunately, Ms. Florence passed away shortly before this was made possible by a gift from Fallen Heroes of Georgia, Inc. in 2016.
This year, at Georgia Christian School, from September 7-10, we learned about our flag and what it means as a symbol of freedom. The students also heard the story of one of their own, Adam McSween. Our students had an opportunity to show their patriotism in a variety of ways during the week. A special 9/11 shirt to commemorate the 20th Anniversary was made and over $2,000! (Special thanks to Jason Parscale, Art Director at Reagan Outdoor Advertising, Chattanooga, TN for the design). All proceeds from the sale of this shirt went directly to the Adam McSween Scholarship that is in our Named Scholarship Endowment. Thank those who made this a week to remember and may our God bless America.
There is also an option to make a donation to the Adam McSween Scholarship. Send a check to GCS with "Adam McSween Scholarship" in the memo line or use the "Donate" button below.